What I'm loving at the moment: lace. Lots and lots of lace. I know, I know, maybe I'm a bit late with this... I have no doubt whatsoever that bloggers left and right have already written about this pretty trend, maybe several times already. But, for whatever reason, it wasn't until I spotted some photos of
Michelle Williams
sporting this beautiful Oscar de la Renta number at the 2011 National Board of Review Awards Gala that I thought to myself, Hmm... I have yet to feature this on MY blog. And so here we are! Lace, if done correctly, is classy and elegant... yet it can also be used to give the look a bit of an edge, which I love. Which brings me to
Jessica Biel
, showing off a bit of skin in this gorgeous Emilio Pucci dress (pictured below) back in June. This look alone is walking proof of that old saying,
"
a little bit goes a long way
"
. Jessica shows us all how to use lace to look sexy without looking, well, trashy. Personally, I love lace in classic shades like black or ivory. And, my advice would be do as Jessica does when incorporating lace into your outfit: don't go overboard with it! Pair a lace top with a solid skirt or leather shorts. Step into some lace pumps to add a little kick (no pun intended) to your LBD. At the same time, don't be scared to use lace to spice up your outfit. If you're going for an all-over lace dress, make sure it isn't too long and drapey, and that it's overall flattering for your figure, otherwise it will age you and distract from your bod. And to prove our point, we have
Kirsten Dunst
. I tried to like her look, but for some reason this Valentino dress wasn't doing it for me. I don't know if it was the sleeves, or the fact that the dress is a little stuffy with the tights... but the whole look was kind of a flop for me. It's just so unflattering and does nothing for her. While Michelle's lacey look is classy and Jessica's is sexy, Kirsten's is just old woman-ish. But I digress.
I will leave you all now with these stunning Alexander McQueen flesh lace pumps...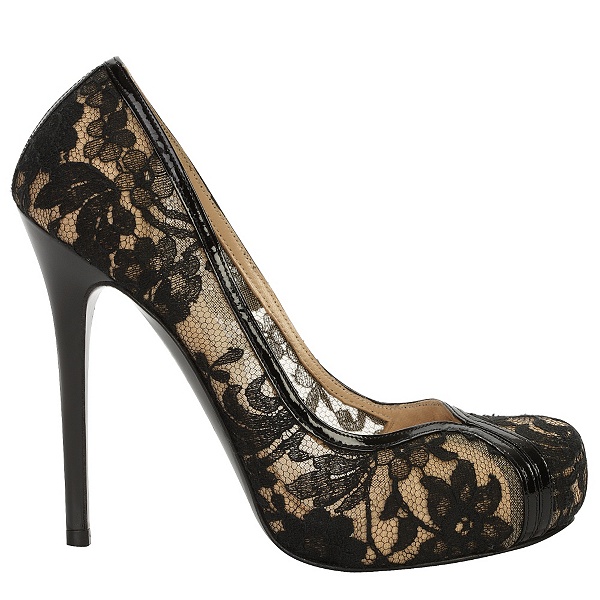 So... what do YOU think of lace? And of the looks I featured? And of these swoon-worthy shoes? Oh and as always, thank you so much for the sweet comments. xo
images via justjared.com; alexandermcqueen.com